France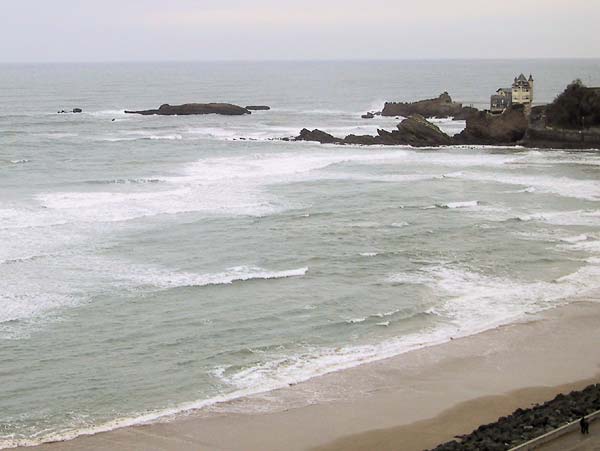 Traveling through France in the midst of winter is often a cold activity.
But we did enjoy the hotel we found in Senlis, north of Paris, and we enjoyed the vast area of Sologne, an enormous nature reserve. We even enjoyed the area around Bordeaux, though it was dark, but we noticed the hills and curves, and we smelled the aroma of the wine.
Above all, we enjoyed Biarritz, with its great sea, maybe at its best in this time of the year.
The Dutch nl day 1, nl day 2 and nl day 3 have more photographs, and a couple of links for this part of the journey.
Snow on the Puerto de Piqueras
When we crossed the Pyrenees, I thought we would enter warm and sunny Spain.
However (and I should have known of course), vast areas in Spain are very cold during the winter, and there are mountains everywhere, some of them with rather high passes.
On one of those passes, the Puerto de Piqueras, it started to snow, and snow, and snow. I didn't want to drive anymore, but Ernst proceeded, and after I stubbornly walked for a while next to a slow driving Ernst, I sighed, and climbed on the back.
We got through, reached El Burgo the Osmo, and found a hotel.
More photographs and links on the Dutchnl day 3 .
El Torcal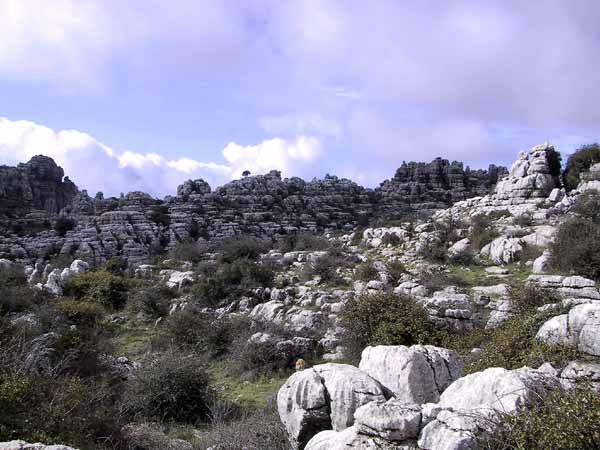 In the warm and sunny part of Spain, near Antequera, we crossed El Torcal.
It is a fairytale of white rocks, a natural amphitheatre, getting extra depth by the bright shining sun, and the shadow of some clouds.
This part of Spain only knows, so it seems, great motorcycle roads.
More photographs of El Torcal on the Dutch nl day 5 .
Ronda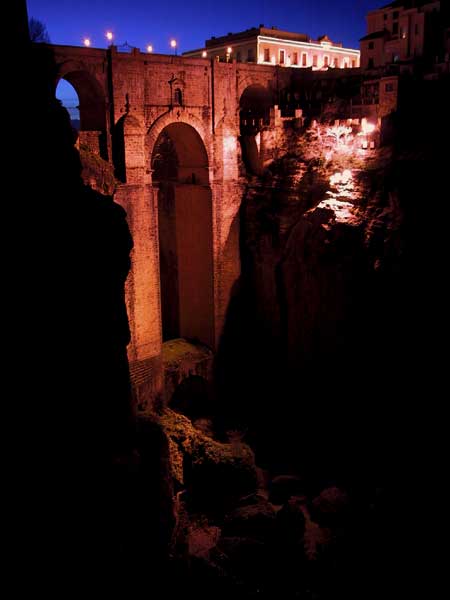 Ronda is a very special town. The old part is built on a high rock, surrounded by a river, streaming in almost a circle around it, deep down.
On the other side of this abyss, a "new" town is built, to be reached by three bridges, of which you see the newest (and highest).
The old town has some Moorish parts, a beautiful small church, and spectacular houses high above the river, growing out of the rock.
The other part of Ronda has one of the oldest (and one of the most beatiful) arena's, bullfighting rings, of Spain.
We spent much too few time here: Ronda is a very special place.
More photographs of Ronda on the Dutch nl day 5 .
Between Ronda and Gibraltar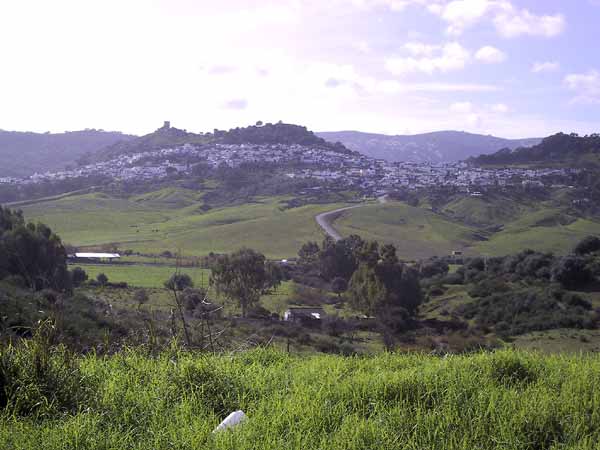 When you look at the Michelin map, the roads south of Ronda almost all have a green rim, and they're right.
It's a hilly country here, with hills that are almost mountains. Now, in december, everything is lush green, with from time to time a white village, sticking to a hill.
The roads are all curvy: you could drive here for days, and would never be bored.
Ernst had forgotten his passport, and to my great astonishment, we could not get to Gibraltar! Never, in the whole of Europe, we have to show our passports, but here on this tiny remnant of the British Empire, we could not enter without it!
Well, never mind, there are more curvy roads waiting for us...
More photographs of this trip on the Dutch nl day 6 .
Back
At New Year's Eve, when we tried to call home, we heard tragic news: the father of Ernst had died.
That night, when we fell asleep, there was flamenco on the television, a man on a guitar and a man singing, so beautiful, so full of pain, that it hurted.
Ernst decided not to fly home: we would ride home in two or three days, and I decided to let him ride, this would be *his* ride home.
Strangely enough, in such circumstances, you are even more able to see the beauty around you.
And Spain, Spain has so much beauty, it almost hurts...