Departure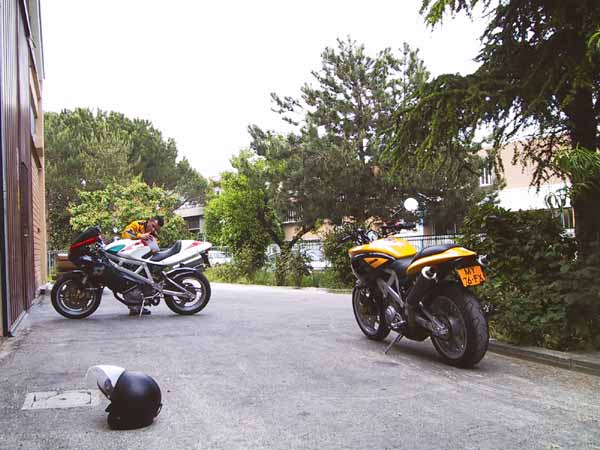 We don't get up very early of course: better get some rest before this long trip. To wake up, a little bit of usenetting always works, then we pack, and then we are gone. I never know what to take along: passport and credit-card always seem sufficient. Oh, yes, and some maps of course.
In the meantime, Ernst is trying to get what was it, Easytravel? to print the computed route, without motorways (which took him thousands of inbetween-points to get it to do that).
The idea is that the printer is supposed to deliver 36 pieces of a map, but somehow, the printer is not impressed. Neither am I, when I take a look at the pieces that have been printed: almost nothing to see...
So I decide to do it the oldfashioned way, and put a markerline on the ordinary paper map, while Ernst puts our minimal luggage into a tankbag and a rucksack, because both our Ortlieb bags are in Utrecht, as we find out now.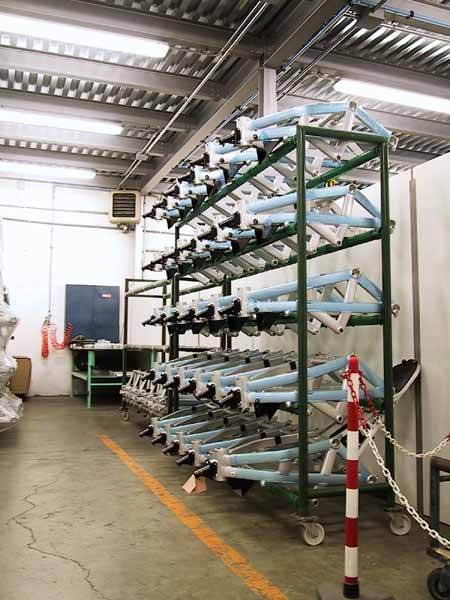 OK, it is one o'clock when we depart ;-)
Somewhere in the Dutch Betuwe, we already loose track of where we are. We see that as a sign of a need to eat. The habituants of the café are very interested in the fact that we are going to Italy for a couple of days, on two motorcycles, which happen to be both in my possession.They have lots to discuss for the rest of the month!
***red. You forgot to mention that we looked so hungry that we got 4 eggs per person.***
Crossing Germany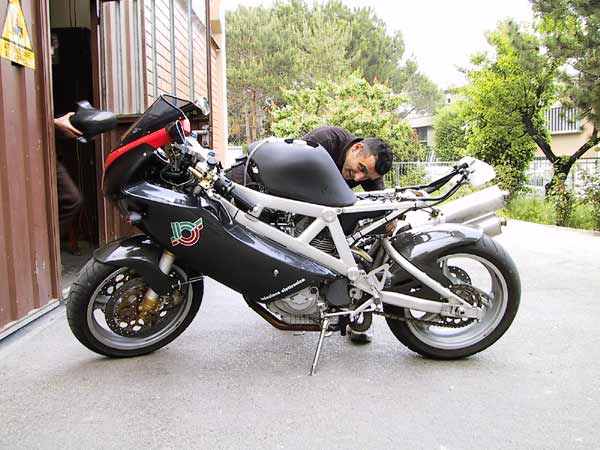 In Germany, on a road passing through a town, there is a traffic light, showing green. A van approaches me from the opposite side, with high velocity, with its blinkers telling me that he wants to take a left. I interpret his behaviour as "I will scare her, and brake at the last moment".
I was wrong: he doesn't brake at all!
***red. It was a truck, that I saw racing into you. Scary! ***
When I see that he *is* going to make the turn, I pull the brake as hard as I can. Everything squeeks, and he is clever (or absent-minded) enough not to apply his brakes: I manage to pass behind him. I am glad to wear my summergloves: with my wintergloves, I have less control over my brake.
Ernst is riding behind me, and in his imagination already saw me gliding under the truck. And he knows for sure that the car hit my mirror. He is even more shaky than I am, I think.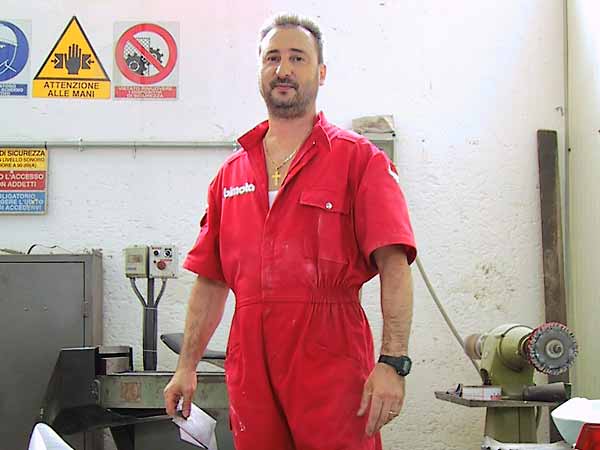 The man on the photograph is the designer of the Bimota Drako....
For the remainder of this day, nothing spectacular happened. The only problem is that we don't cover great distances, so we decide to take the Autobahn for some stretches. In the meantime, it has started to rain, and it's dark, so I don't see anything at all.
Somewhere in the neighbourhood of Ulm , at around one o'clock at night, we find a hotel. Yes, sleep!
*** red. Where we got a room above the place where we were allowed to park the motorbikes on the terrace. It's never necessary to look for officially "Motorbikefriendly" hotels, because I never encounter hotels that are not motorbikefriendly...And the next morning a real English breakfast!***
Austria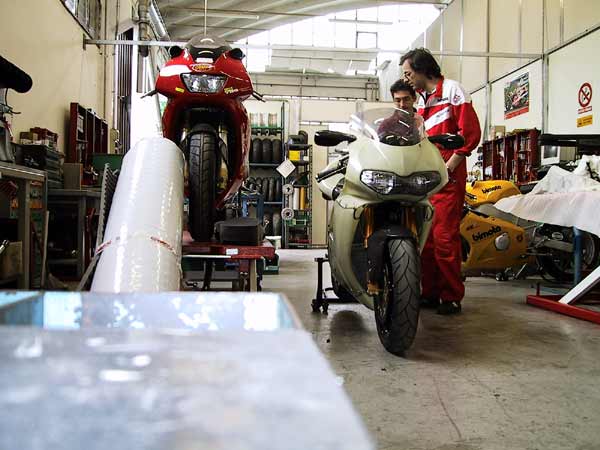 The idea for today is to reach the factory before 6 pm.
The advantage is, that it is so very impossible to be in time that I don't feel nervous anymore about being able to manage.
First a bit of Autobahn, then in the direction of Garmisch Partenkirchen over a nice road, red on the Michelin map, with a green rim. And even the weather has turned out well! But while we are eating/drinking a pfannkuchensuppe (panncake soup), it starts to rain again.
***red. But even before we finished the sun was shining again, and the ride was fantastic. ***
This time it is Ernst who gives me the shivers: riding close behind a truck (never do that!) he swerves to the left to overtake, while accelerating, while a car drives at the oppposite side! He manages to turn back just in time...
***red. That's why you should never ride close behind a truck! ***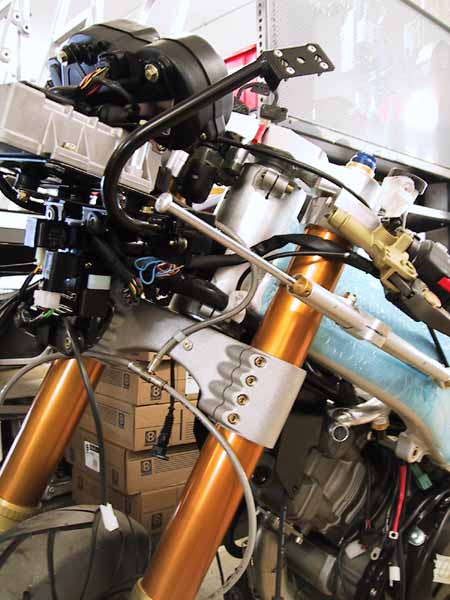 In the meantime, we have reached Austria, and are on our way to the Stelvio (webcams at the link).
The sun is shining, there are corners to round, and now and then, we are able to see the snow of the Alps before us. Life is beautiful.
***red. Yes, even in boring Austria. ***
Oops, a queue of waiting cars. When we pass them, we find out that we can't get through because people are dropping trees down to the road, where they are being chopped and taken away. We wait for more than an hour before we are allowed to ride through! But happily enough, the sun is shining all the time.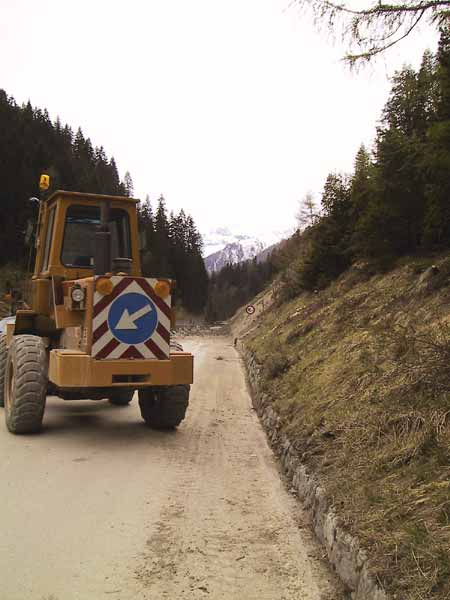 I had hoped to reach the Stelvio at 3 pm, so that is going to be 4 pm. I thought... The Stevio is closed!
We ride as far as we can get, of course, hoping for a few hairpins, but already after the first hairpin we find enormous rocks on the road, and we see more are falling down. So they are in the process of clearing the pass...
Italy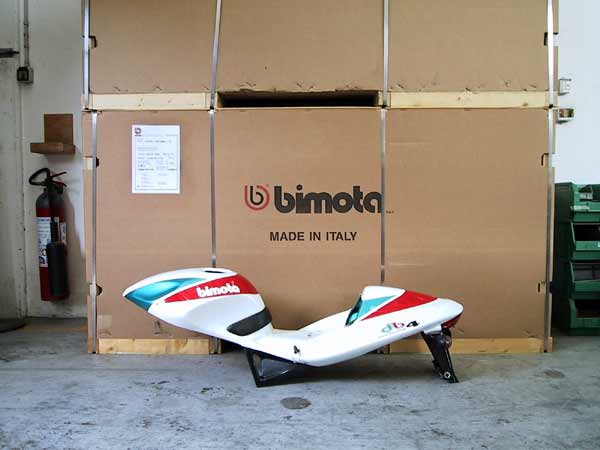 Well, than there is no other choice than to ride down via Merano, andBolzano. The roads here are incredibly crowded, full of slow trucks, often hard to overtake.
We get lost in Merano (I suppose the Italians learned how to place signposts from the people from Belgium), so it is already dark for a long time when we reach Bolzano.
It is much too long ago that we had some food, and my hate of Italians has taken enormous proportions. I punish every bad action of them (well, bad in my eyes) by revving the engine and by overtaking riskily, and according to Ernst I even do stoppies out of angriness, but that's not true.
We find a Burger King (with filthy hamburgers...), and Ernst finds out that he has lost his money! He left it at the gas station...
However, all my prejudices against Italians are proven wrong: the Italian at the counter of the gas station has kept it for him! Now, everything has to get right...
***red. If only we had found a Burger-King.. What we found was an Italian pastische of BurgerKing, where the napkins taste better than the pizza... ***
We ride on, along a road which is like a motorway now and then. It's raining cats and dogs. On one of those motorway-stretches, I notice a sign"Road Construction" (in Italian of course).
Suddenly, my motorbike dives down, about 30 centimeters: we are riding on a stretch of road where the tarmac has been cleared away. Ernst keeps the Mantra upright, but only just: it jumps every which way, and the stretch even contains a corner...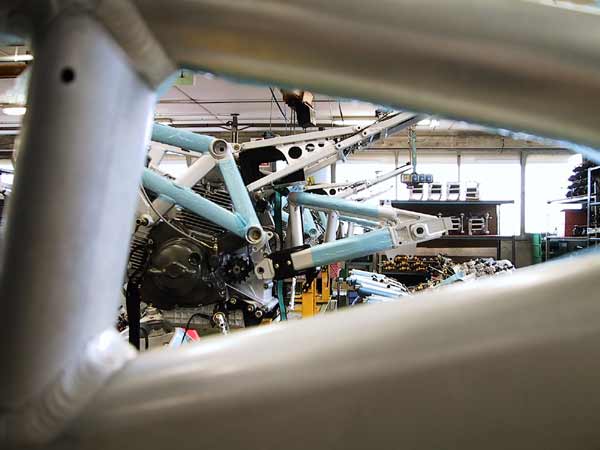 It's already half past eleven pm when we arrive at Padua , where Ernst spots a McDonalds sign (he has got a sixth sens for those signs). After a detour to find a Bankomat that actually works, we fill our stomachs before we start at our last 250 kilometers of this day.
At a traffic light, I ask a fellow motorbikerider how to get in Chioggia, a name which I appear to pronounce completely wrongly. But he understands, and he will bring us there!
Unfortunately, I notice a sign, while riding behind him, with the correct place name on it, and I am not sure whether he meant to bring us till this sign or further, so I turn into the direction of the sign while he rides straight ahead. So we couldn't thank him other than by waving!
From Chioggia we ride along the coast, one long, straight road. From time to time we encounter a queue of trucks, sometimes on our own side, sometimes on the other side (unfortunately, they are there in eaxactly the only three curves of this road). Here and there, there is a traffic light. What is very nice about this road is the heavy sweet smell of flowering acacia's.
We arrive in Rimini at 2 am or so, and following the advice of a couple of boys (who remark that most of the hotels are at the seaside) we find a hotel which is still open, and where we are allowed to park the motorbikes behind a fence.
***red. Between the roses and the terrace...**
Fall asleep, after having ask to being called at 8 am :-(
Bimota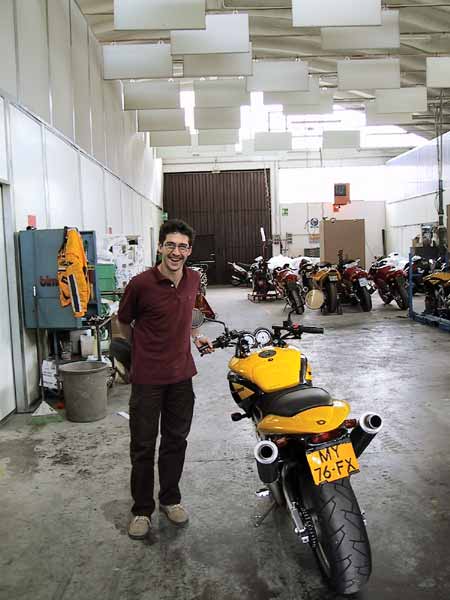 Jezus, that was hard, getting out of bed. The receptionist showed me on her map where we can find Bimota, and we reach it in one try!!!
When we are looking for the right street number, I spot people is red coveralls, looking at us. That's where Bimota is ;-)
The only employee at Bimota who speaks English is called, our problem is explained again, the Mantra stays behind, and then they ask us to come back at about 4 pm.
We try to sleep in the hours in between, and walk along the beach.
The result: not only do the brakes work perfectly, without any chatter (they gave us a new wheel, and two new brake discs), but the Mantra behaves incredibly better on the road. No more jumps at every millimeter-high bump, no more standing up at every unevenness in a corner, for instance!!!
They gave us, as appears, a new adjustable shock, and a test rider of Bimota set up the preload and damping perfectly. And of course the Mantra is cleaned, and shines all over, and because they didn't like the front fender very much, they gave us a new, better fitting one (also one of carbon of course).
And of course we are shown around in the factory. Everybody who works here creates his own motorcycle, from begin to end.
And we get to see the successor of the Mantra, the Drako!!!! as the very very first non-Bimota-people. Of course, the Mantra is much more beautiful ;-)
The designer was still fuddling with plaster, to mould the fairing around the headlight.
In the evening, we walk around in Rimini, which is not a really beautiful town, as we discover, but dwelling around in an Italian town is always much fun. We are too tired to eat, so we go to McDonalds to fill our stomachs, and then we litterally fall into our beds.
Crossing Italy to La Spezia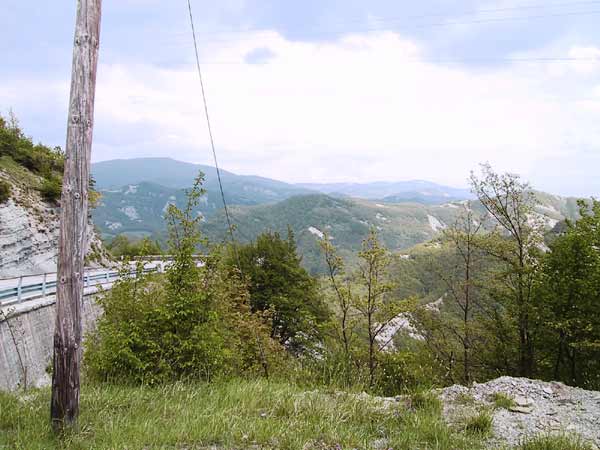 Sleep in , and pack our bags at around noon.
After some wandering around, we are on the road to San Marino ("Ferrari museum", all signs show something with motorcycles or Formule 1), which was not our plan, but the road appears to be a real Mantraroad: great tarmac, four lanes, one tight curve after another, steep upwards.
At the gas station (every motorcycle arriving there has tires which are far more used at the sides than in the middle: all you have to do is ride up to San Marino and down again), we buy a map by which we can ride: Italians are very good at showing only the tiniest villages on their signs.
The plan is to cross the country, using small roads, towards the Mediterrian, to Genova.
The weather is fine, the roads are really incredibly good. One corner after another, no straights in between. Hairpins, almost-hairpins, tightening corners, corners you can see through, fast corners, slow corners, cambering corners, we met every type of corner you can imagine.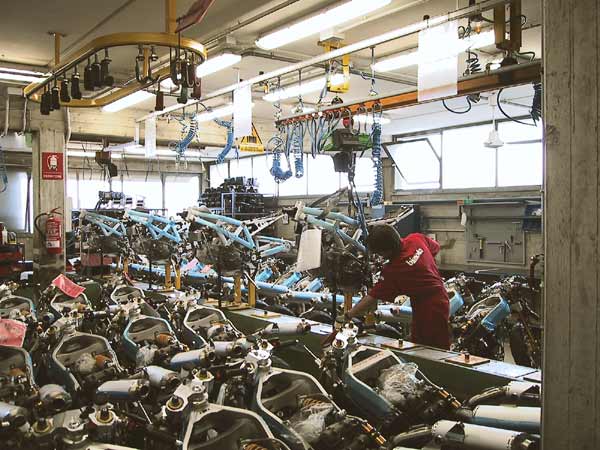 We ride all day long (until one o'clock at night), and we encounter nothing else but corners!
Now it's very well noticable how much better the Mantra behaves, because the tarmac is not of the best quality imaginable, but the Mantra never gets jumpy.
We try to find a hotel in La Spezia, but the whole of La Spezia appears to be full: there is some sort of a festival or something. Further on, along the road to Genova, we find a hotel with a very kind gentleman, who gives us the suite while we only have to pay for an ordinary room.
Oh, and by thinking of all those corners, I almost forgot:
Twice, we were given a stop sign by carabinieri. And both times, exactly the same happened:
Ernst rides up front, and I follow him. When I stop, they just start confronting Ernst with harsh voices, in Italian (probably telling him that he was speeding, about which they were right). Then they see mee, quit their conversation with Ernst, to ask me where we are from and were we are heading to, and then they say they we may go on.
I still wonder what it is: are they softened by me, or is it their machismo that tells them that getting a speeding ticket is something macho, so they are just unable to give so much honour to a woman, or do they think there must be a mistake, because it is impossible that such a woman was speeding? I'll never know ;-)
On to France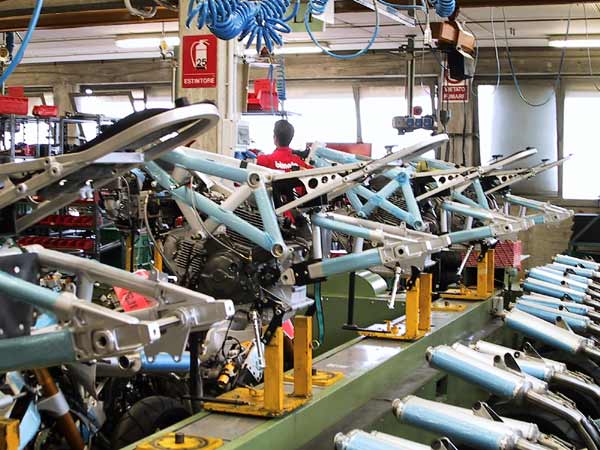 The road to Genova still has corners, and on a certain moment we are able to see the sea, in between the orange trees and the bougainvillea and the pines.
But then it starts raining again, and there is very crowdy traffic. We decide to take the autostrada. What was very nice, is that even the autostrada, around Genova, is fulle of corners ;-) corners and tunnels.
But at a certain moment, the road is straight and flat. Jezus, how boring. We ride straight ahead for hours.
When we lunch, the Formula 1 race just starts on the TV in the roadside restaurant. We stay there to see the whole race, but unfortunately Hakkinen wins, and Michael drives a shit race.
So, on the road again on the autostrada, and the col du Mont Cenis, which we planned to take, is closed. Well, it doesn't matter very much, because it is raining again, and the Mantra doesn't like the cold high in the mountains. So we take the tunnel of Fréjus.
Rain in France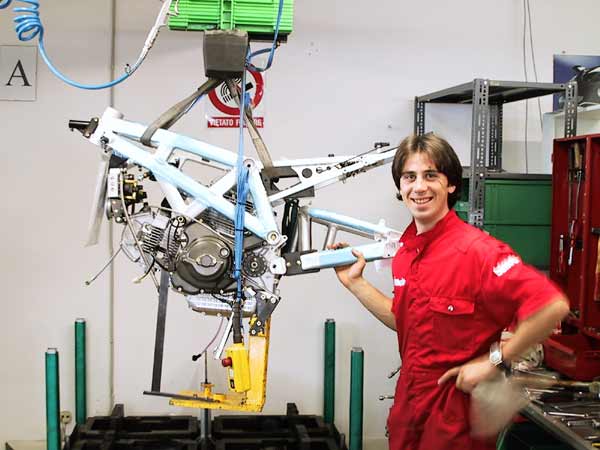 When we are through the tunnel, there is a nice fast road, with a view on the mountains of the Haute Savoie.
Here, at two occasions, we are warned by litterally every oncoming car or bike, that there are gendarmes checking for speed. Both times, they just stood there, sheepishly, rather bored, with nothing to do.
There are lots of motorcycles here, and little boys at traffic lights ask us to wheelie with hand signs (which I didn't understand ;-)
After a McDonald-stop, I have planned to take a yellow Michelin-map road. I succeeded in finding it, and it is a great little road, but it starts thundering and raining incredibly hard. Muddy rivers are crossing our yellow road now, and from time to time the road itself changes into a river. Hard work for Ernst on the Mantra (when it rains he thinks he belongs on the Mantra: I would, according to him, get tired too soon. I suspect he did everything he could, during this vacation, to make it rain so often).
***red. I'm asking myself if the road was yellow for another reason: always yellow by the mud. The trees were very very green as well...***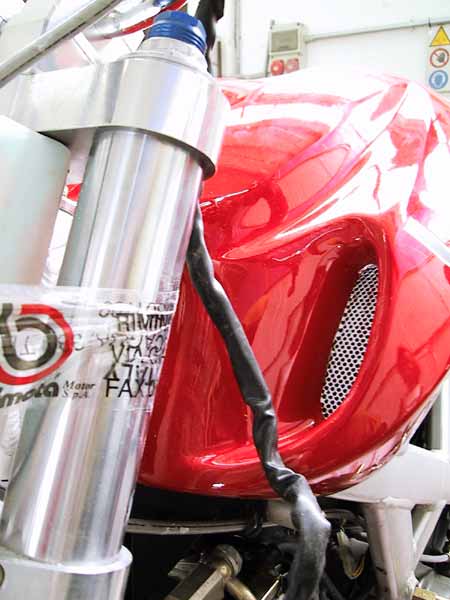 On this photograph, by the way, you see a piece of the Drako!!!
It takes us a long time on this road, to cover any substantial distance, but there is no other possibility than go on and ride ahead, because there are no crossings towards bigger roads. We never saw a gas station. Sometimes there is a village with a hotel, but everything is closed.
In the meantime, everything has got wet: the rain has found a way through my collar into my clothes underneath, and the same has occured with the shoelaces...
***red. Your rainpants are too short for your short legs...***
Finally, finally the yellow road ends on a red road, with patches of snow beside here and there.The rain keeps coming from the air, and we long very much for a hotel. Along this road, there are hotels, and the second one has got a room for us, thank god.
Home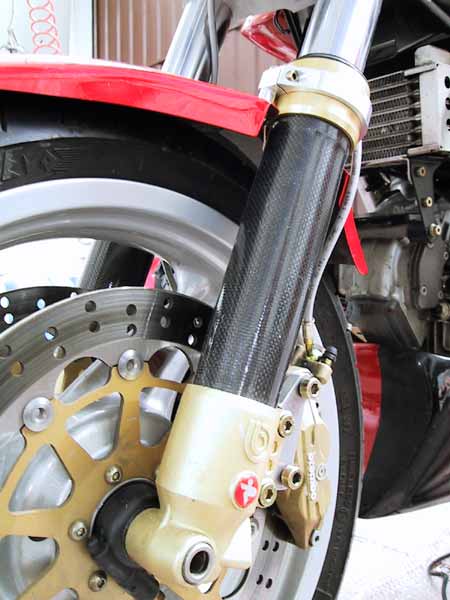 Again the Drako...
A beautiful road, changing into a highway just before Epinal (corners), so we are going fast. From Metz we take smaller roads, and via Luxemburg-city, Spa, Luik, Tongeren and Hasselt, we get on the highway at Breda. From there, it is only a short stretch. Home at already half past 12 at night!
SB8K Race Bike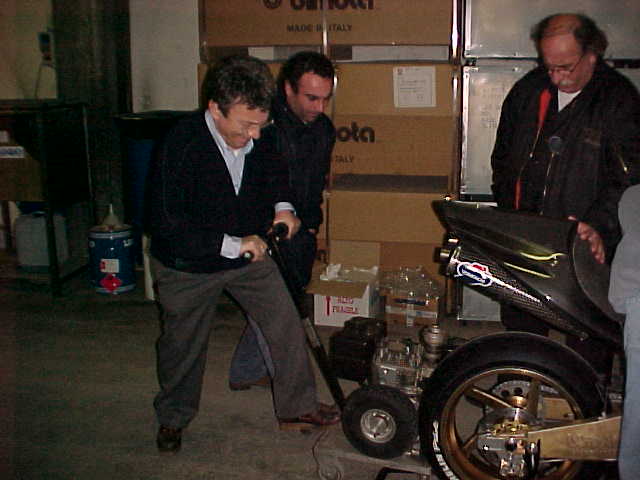 Stefano Zacche, the engineer in charge of the development of the SB8K race bike at Bimota, wrote to me, after having seen this page.
He was testing the SB8K race bike when we visited the Bimota factory.
He sent me some photographs, and allowed me to put them on this page.
This picture was taken during the very first start of the very first race of the Bimota SB8K. The person starting the bike is Franco Farne.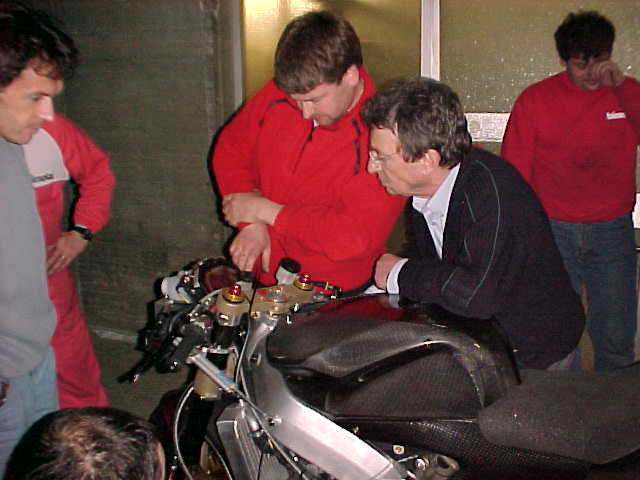 This photograph of Stefano Zacche was also taken during the very first start of the very first race of the Bimota SB8K. The people are (from leftto right): Virginio Ferrari (Team Manager), Matthew Casey (Chief electronic engineer), Franco Farne (Chief SBK project).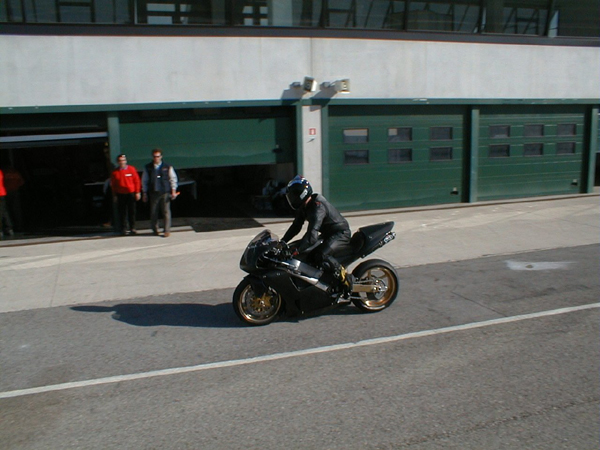 Photo of Stefano Zacche: the first test drive of the Bimota SB8K, on the Misano circuit..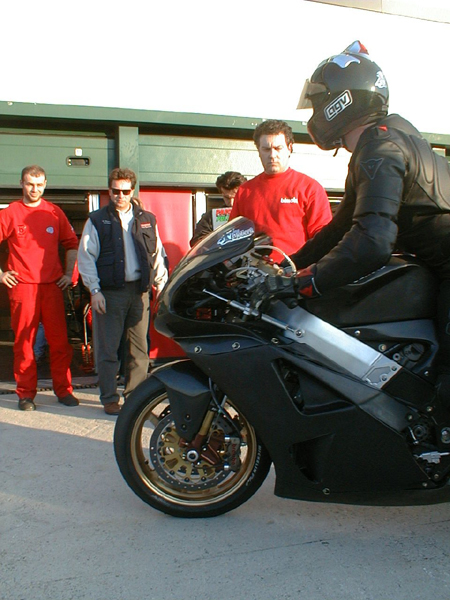 Again: the first test drive of the Bimota SB8K at the Misano circuit. The people are Anthony Gobert (driver) and Fabio Ronconi (chief experience dept.)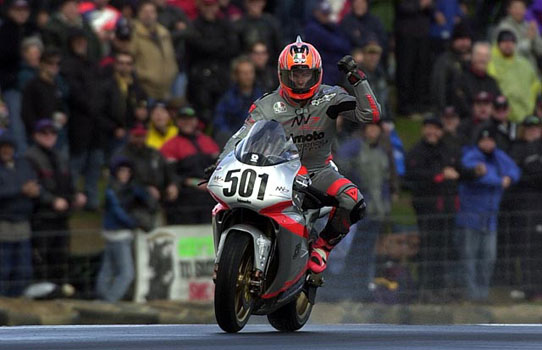 The victory of Anthony Gobert, on the Bimota SB8K at Philip Island, 2000.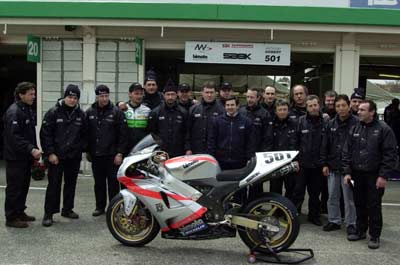 The whole team with the Bimota SB8K after the victory at Philip Island, 2000. The picture was taken at th Sugo circuit. On the second line, belowthe "501" sign, you see Stefano Szacche.