Being welcomed by a taxidriver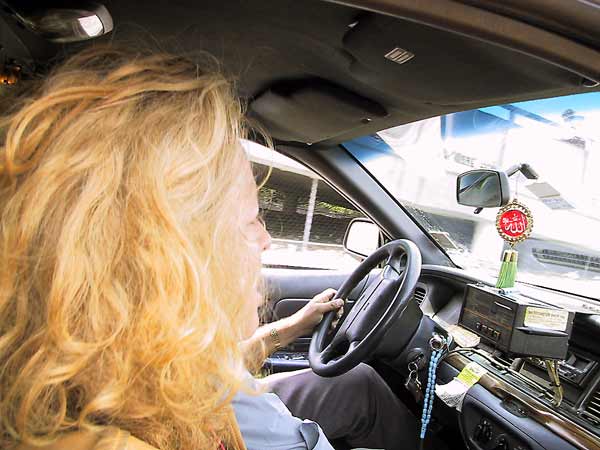 Somehow, I'm always lucky. This time, after having queued in Amsterdam and again at JFK, my luck decided to get me in the taxi of a Palestinian taxidriver ("You know Yasser Arafat? I am from Yasser Arafat.").
Once, he tells me, he had visited friends in New York, had fallen in love with the city, and had decided to live here.
Why does he love New York? "It doesn't matter where you are from, it doesn`t matter why you are here. Everybody gets along and lives together." You can hear every lanuage of the world over here, eat food from all over the world, and all those people get along (well, this might sound strange for someone from Europe, where New York is not exactly seen as peaceful, but when you consider where he comes from, he is just plain right). New York is a unique place in the world.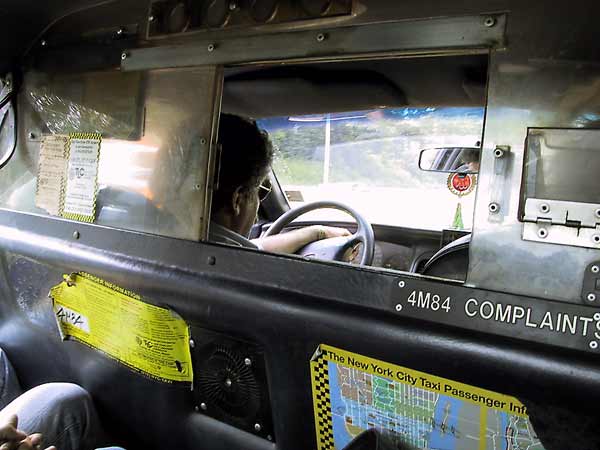 Of course, we have to visit Palestine one time, he tells us, because it is, and will always be, the most beautiful country in the world. And very safe, at the moment (alas, at the moment that I write this page, that's no longer the case).
But New York is safer, he admits (and also that safety has changed, now the Twin Towers have disappeared from the skyline).
When we arrive at the Gramercy Park Hotel (it is in other, more expensive hands, unfortunately), he says: "Welcome to New York. I know you will have a very pleasant time here." There is no better welcome!
More pictures of our welcome into New York on the Dutch Day 1 nl
Washington Square Park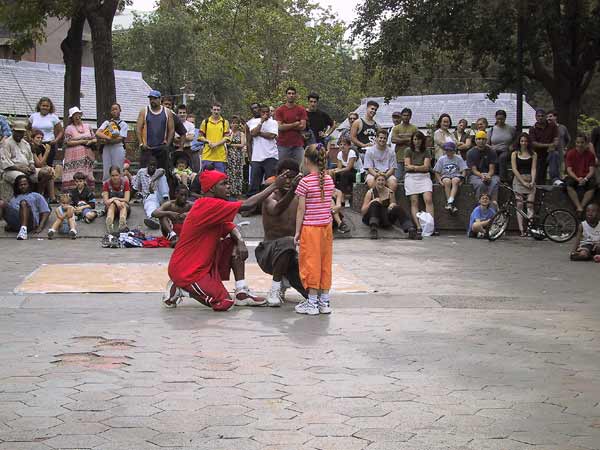 In Washington Square Park, on sunday evening, Tic and Tac perform brakedancing and acrobatics, accompanied by their own comment, which they speak in chorus.
They choose a little girl from the public, Adèle, and tell her she is a volunteer. She stands still, very still, for hours so it seems, until at last Tic makes a salto over her head.
She was offered, for her patience, the choice between "this Beautiful shiney coin" (a Quarter) and "this really old and dirty piece of paper" (a dollar), but, being a smart girl, she snatched the dollar.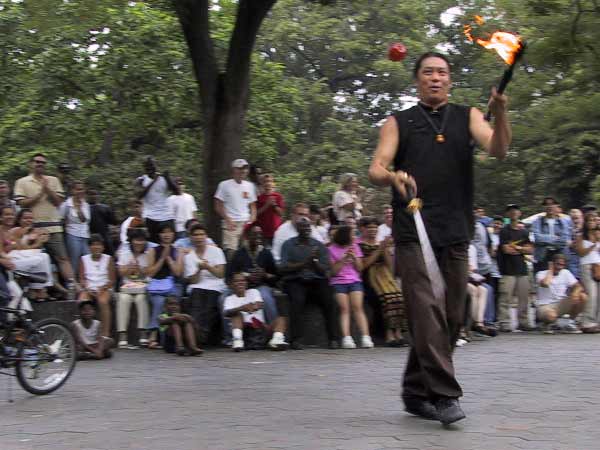 Next performer is Master Lee . Who doesn't believe he can break three pieces of wood against his forehead? Of course Ernst doesn't...
Ernst has to come forward, and stand before master Lee. Master Lee hits him on the forehead with the three pieces of wood. The only problem is that he did count on the fact that everybody steps back in such a case, but of course Ernst didn't.
He hit him much more severe than he intended to do...
Master Lee prepares things for all kinds of unclear acts, and again and again has reasons not to perform them. In the end he really juggles with an apple (he eats it while juggling), a sword (he cuts the apple with it) and a burning torch.
He chooses a fattish man from the public for the main act. He tells us the man will lie down on a table, with a cucumber on his belly, in his trousers. Master Lee will cut the cucumber with his sword, blindfolded. Of course, also this act is prepared and not performed...
He smashes burning pieces of wood, collects money ("Remember, if you give money, I get rich"), and then, when he finally will cut a cucmber, blindfolded, with the cucumber on the belly of a volonteer, the volonteer says he has run out of time, so he has to leave.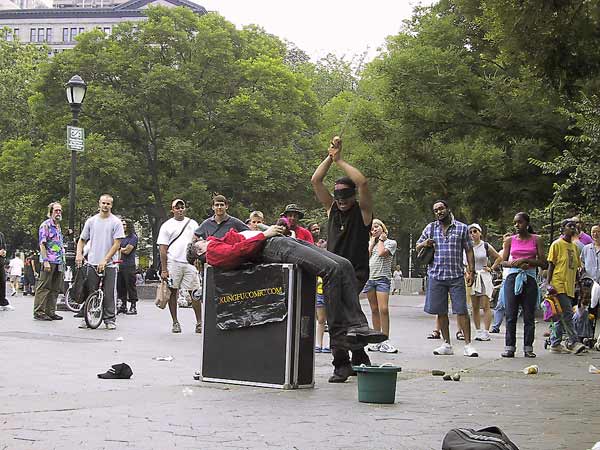 So, the victim is Ernst again (nobody else volunteered but him...) The sword hits his stomach, but appears to be blunt (so that's the secret). Ernst gets himself a cool blue streak.
The nice thing about taking photographs, in such a case, is that you can prove, afterwards, that the volunteer actually was looking. We spotted him on one of the pictures! If you want to see for yourself, you can check the dutch nl day 1 , which has far more pictures of the drive into Manhattan and the performances at Washington Square than are shown here.
Statue of Liberty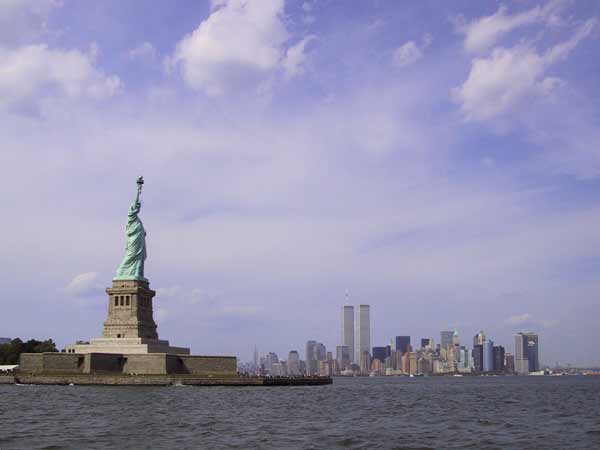 One of the nice things of having a twelve-year-old boy around, is that he insists on visiting the Statue of Liberty. We would never have gone there without him, and I must say he was right with his wishes.
We walked from the hotel, admired the boats in the Hudson from the Hudson River Park, and visited the shopping mall in the World Trade Center (and in doing so noticed how ridiculously big it was).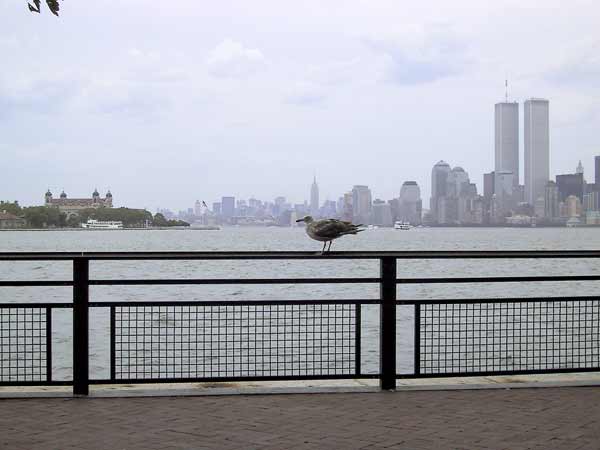 I would have paid the price if it were alone for the boattrip on the Hudson , with views on the Statue of Liberty, on Ellis Island (where every immigrant to the United States arrived in earlier days), and on the skyline, and all that between boat-traffic almost as busy as the car-traffic in the streets.
I keep thinking, with hindsight, about how relaxed the control for weapons was.
The view on the skyline was, even though we couldn't go up to the crown, magnificent. How beautiful were both the Chrysler Building and the Empire State Building , and how ugly those two towers of the World Trade Center (that's what I thought right then, and I never would have thought that that might become almost a cruel thing to say...)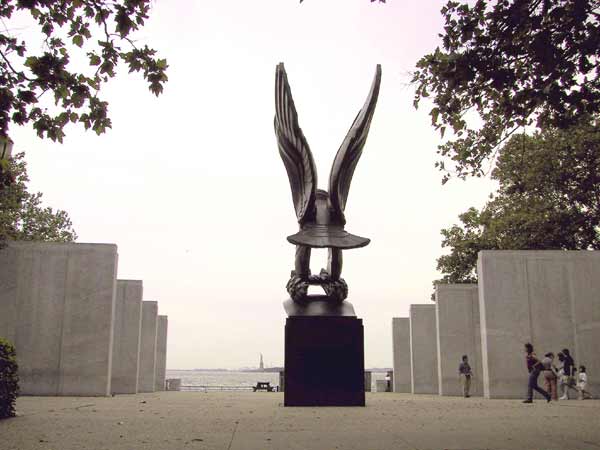 In Battery Park , where you get off the ferry, you'll notice this eagle with eight stone slabs. On the slabs the names of all American soldiers who died somewhere on or above the Atlantic Ocean in the Second World War. Names, names names, never-ending, impressive, really impressive.
For more photographs, take a look at the dutch nl day 2 .
Empire State Building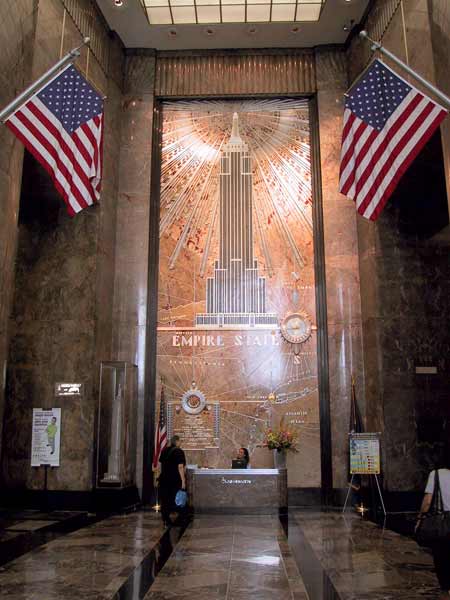 The next day, when walking on 5th Avenue to Central Park, the same twelve year old Pieter forced us into the Empire State Building . As you see, it's worth the trouble, even if you would stay downstairs.
Of course we didn't, and we were not only treated on magnificent views over Manhattan, but also on exquisite discoveries as a church build on top of one of the skyscrapers, or a tiny English townhouse, tucked between its skyscraperneighbours, condemned to stay there in the shadows forever.
If you want to see those discoveries, you 'll have to check the dutch nl day 3 ...
the Villages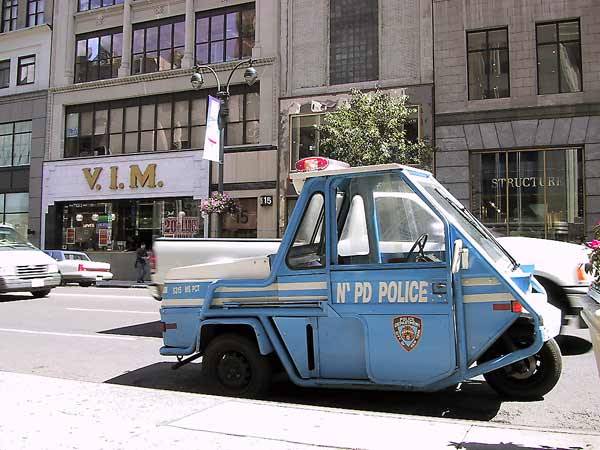 Ernst got ill. Seriously ill, discovered the hotel docter a day later: he had a viral meningitis.We wanted to stay by his side, and he wanted to have rest, so we found a compromise: the children and me walked around in the neighbourhood, so we were able to check on him from time to time.
Somehow, this gave us the feeling of living there, and we got to know the Villages: East Village and Greenwich Village . We found a 24-hour diner were we had breakfats and dinner, we had dinner at a Ukrain restaurant, we watched people in Tompkins Square Park , we bought pills in pharmacies.
I feel very sorry for Ernst, but I must say, there is no better way to get a feeling for what it is to live in Manhattan.
Our Villages wanderings are described in the dutch nl day 4 and nl day 5 .
Coney Island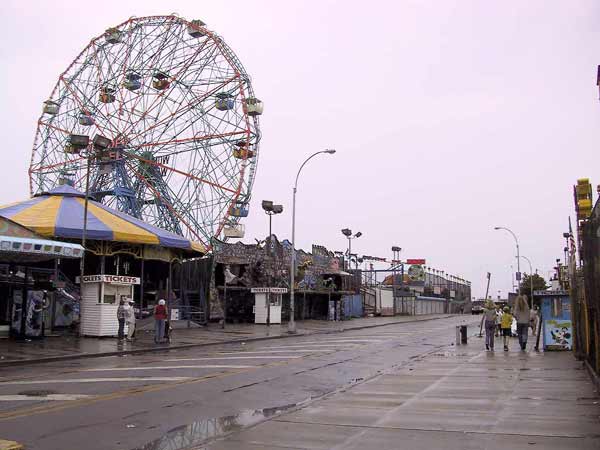 I've always wanted to see Coney Island . Maybe it's because of the song of Lou Reed, or maybe because the descriptions are unbelievable for someone from Europe: here is a place with a beach, 45 minutes from the very heart of Manhattan, and it is not owned by the very rich but there is a very old, rather tacky amusement park , and the only people who want to live there are Russians!
It was raining cats and dogs when we arrived by subway, and every attraction was closed, whic made the whole place the more enchanting.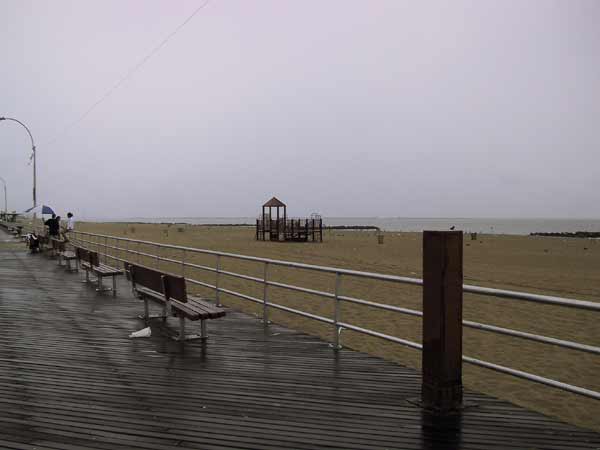 The sea, the beach, the old wooden boardwalk, the wooden rollercoster and the other attractions, with nobody in them, movingless, it was just great.
We visited the Aquarium , with walruses (having fun with the visitors, or so it seemed, by pretending to have the intention to smash their big bodies against the glass, at the other side of which the vistors jumped back), the beluga (I had never seen one, this strange creature of the whales), sea horses showing that they really exist while they look like that is simply impossible, pinguins jumping clumsily into the water.
A few minutes east, every sign is written in cyrillic characters, which is very attractive for my curious mind. It's very easy here, to fantasize about Russia.
Yes, I would know where I would want to live in New York!
There are more photographs of Coney Island and the Aquarium on the dutch nl day 6 ...
People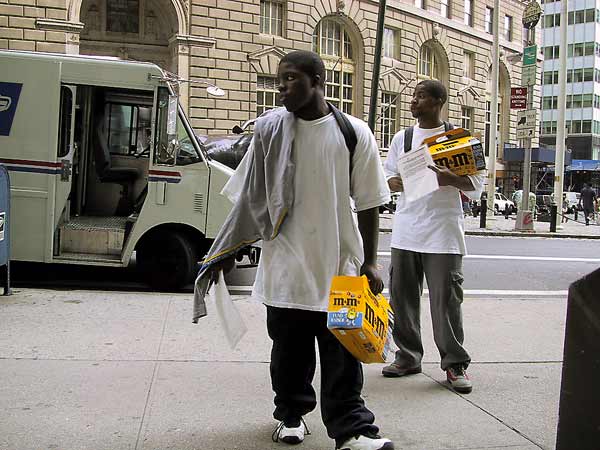 So, what makes New York New York (I should say Manhattan, but New York sounds better ;-)? In my opinion, it's not the skyscrapers. For a big part, it's the people.
I had the feeling that in Manhattan, there are so many people, of so different origins, that there is no use, for anybody, to pretend to be bolder, more beautiful, tougher, more interesting, or weirder than they really are. What's the use in a city where there will always be hundreds, thousands who just *are* like you pretend to be, and so naturally will be far better at it? You might just as well behave like yourself.
Of course, that's true everywhere, but in Manhattan, I got the feeling that just everybody behaved like that.
At the same time, the fact that there live so many people with so many background there, gives you the *freedom* to behave execatly as you are: there is not really a common behaviour, a common look, a common character that you should adhere to.
Yes, I would like to live there, I understand that taxidriver very well.