Wandering through Germany
July 1999
From Iserlohn in Germany, where we visited Ixis, after a nice dinner in a German snackbar, sitting outside, we prepare for the next trip: on to Trier, to tell mister Michels of Pami (the "mi") that we will come back a few days later to gather the XT engine. We will spend those couple of days in the Vosges, in the French Alsace.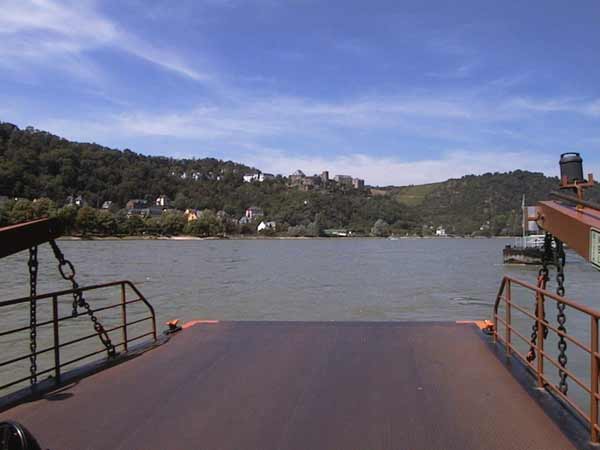 And then we ride on small roads in Germany. I have a near-miss in a corner to the right, when a Mercedes on the other side of the road cuts the blind corner, using my part of the narrow road. I see the terror in his eyes, when he spots me, but he is unable to do anything, as his speed is much too high.
I manage to steer the bike just a bit to the right, and just miss him.
Then we cross the Rhine on a ferry at the Lorelei (the current is very strong there), and we ride on, sometimes on very good race-asfalt, sometimes on bad Strassenschade GS-roads.
The sun is shining, Germany is beautiful (yes, it surprises me every time ;-), life is beautiful.
We have dinner in a McDonalds, after a perfect road (oh I could have left Ernst far behind when I would have taken the Bimota Mantra...)
McDonalds Germany offers McItaly: Mozzarella, tomatoes and salami.
The Mantra roads make it easy to cover many kilometers, but when we try to escape Koblenz to reach the Moezel from the south, the roads turn into GS roads.
It's half past ten when we spot a Gasthaus, with the name "Taunusblick". They have a room and we fall asleep very soon.
We are just in time for breakfast the following morning (1 minute before 10...). But when we try to enjoy the view on the Taunus from our balcony, we are asked when we plan to leave, and we get to see a very difficult face when I mention half an hour.
OK, on to France then.
The route takes us through beautiful corners. We even get stuck in a rally, and have to turn back, just before Trier, because a road has been closed, but we arrive at herr Pami around 5 o clock, who offers a glass of Sprudel on his balcony, in the centre of Trier, with a view on a big garden and a church.
The Sprudel is very welcome, and the shadow of herr Pami's beautiful house as well, because I have a big headache.
Herr Michels points out a route along the Saar. It's a broad road, too much motorway-like, but there is no alternative
Before Saarbrucken we turn to the south.
Italian gas station near France
Just before the border with France, we pause, at a take-away Pizzeria at a gas station, to eat something.
Against all expectations, the food proves to be very good, so I sit there, enjoying Mozzarella and tomatoes, with a view on people hoovering their cars, and almost-falling motorcyclists who enters the gas station a little bit too cool.
My headache, in the meantime, has strengthened to astronomic proportions, so that even I dare to ask for an aspirin. But alas, nobody there has an aspirin. From now on, the lady who brings our food looks like she's pitying me, every time she is at our table.
When we are drinking our coffee, a pizza delivery boy asks us to stay a while: he goes home to bring me some aspirin!
Ten minutes later already, he comes back on his scooter, with an aspirin! There was only one tablet in the house.
I take the aspirin with the Apfel-Schörle of Ernst, but the Pizza delivery boy protests heavily: "Niemals mit Bier, Niemals mit Bier!" Fortunately, when I utter the word "ApfelSchörle", he calms down.
His fellow pizza courier tells me that the combination of strong black coffee with lots of lemon forms a miracle medicin against heavy headaches, so I try that as well.
And it helps! I enter France without a headache!
Petit Pierre and Saverne in
Les Vosges du Nord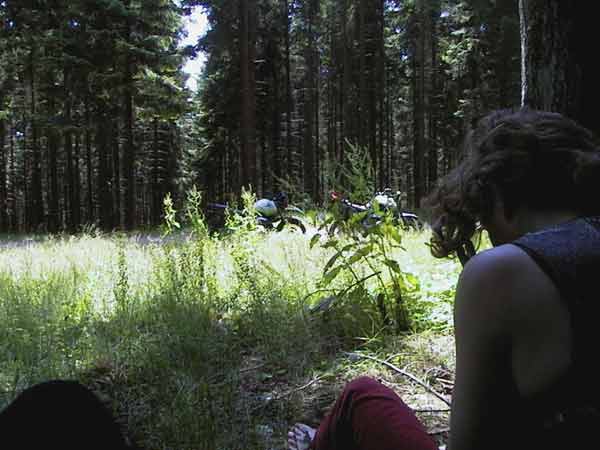 We enter France in a rather built-up area, and the houses immediately look French as soon as we cross the border: just don't paint the outside. I always like this aspect of France: do what is necessary for the construction of a house, but not more than that.
It's rather difficult to get out of the suburbs of Saarbrucken, but then we are in the midste of the Vosges du Nord !
It's green here, very green. The villages are picturesque, with timbered houses, and coloured plaster (not maintained meticulously for an extra picturesque effect).
When it gets dark, we remember that it would be a good idea to look for a hotel, and realise that we didn't see too much of them.
In a village at a river, with only beautiful houses, I ask for a hotel in a cafe, in French. We have to go to Petit Pierre for a hotel, they answer, but it's difficult to explain how to get there. He tries, 5 times, and when I thank and walk to the motorcycles, he walks after me, and explains Ernst three times in German how to get there ;-) It appears he finds German easier to talk...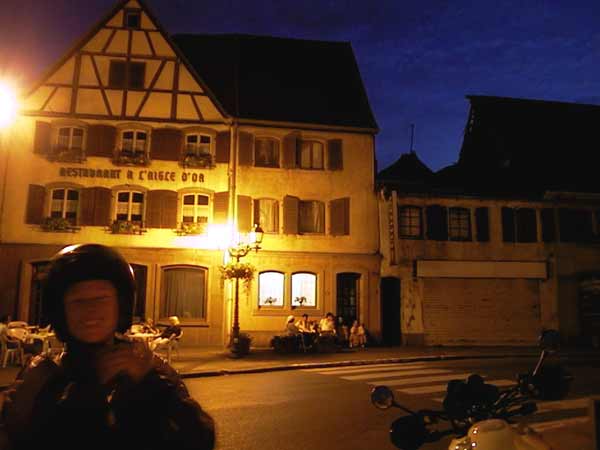 Unfortunately all hotels in Petit Pierre appear to be full. A friendly old gentleman (who is very surprised to hear that we just dare to go on a holiday without making reservations), recommends Saverne . There are more hotels over there.
It has become fully dark now, so we ride a beautiful road, through the forest, with one corner after another, without seeing much of the environment.
It's after midnight when we enter Saverne, and the first hotels we see look very dark, but there are lights at "Chez Jean" .
They even have rooms with a real bath (instead of only a shower), and with "1 lit pour 2 personnes" instead of a lits-jumeaux, but those rooms are not available. So it's going to be a room with a lits-jumeaux and a shower, and I decide not to count how much the room costs in guilders.
It's a beautiful hotel, with rooms full of hand-painted stuff: green borders everywhere were you can paint a border, and birds on doors and on the bed.
The Vosges, paved and unpaved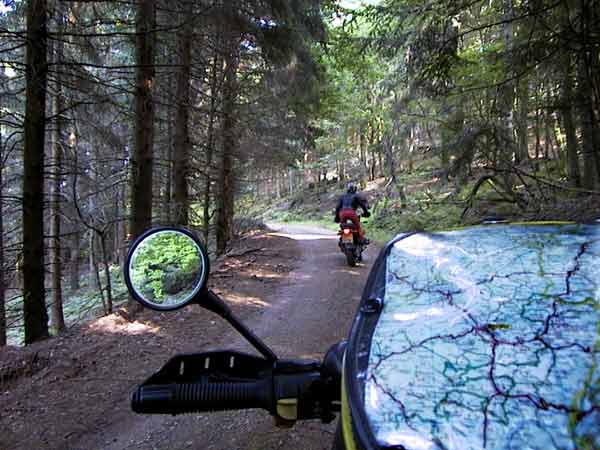 South of Saverne, you really are in the midst of the Vosges. Hairpins, unpaved forest roads, a landscape sometimes full of enormous forests, sometimes rolling hills with cows, single trees and farmland, sometimes beautifull timbered houses, painted barns, and plaster in every colour of the rainbow.
There is often the opportunity to ride unpaved paths. One such path leads us up and down through the woods. Hairpins, slipping over loose stones. I am glad it's dry, otherwise I wouldn't be able to cope on the Avons. Now, they behave perfectlt well!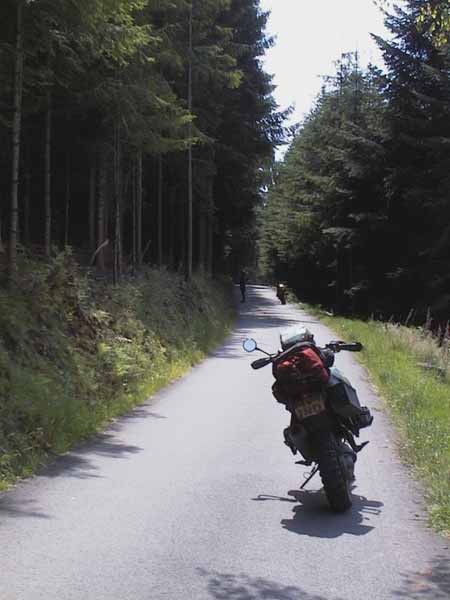 Then there are the forest roads: very narrow paved roads through the forest. Nice to take from time to time, but not very exciting, because you can never look through the corner, so enjoying corners is not possible. But they enable you to find nice unpaved paths. And those unpaved paths take you to places with nice views, to blueberries to pick and eat, and to grass to lie down in (when you discount the stones), and to relax ;-)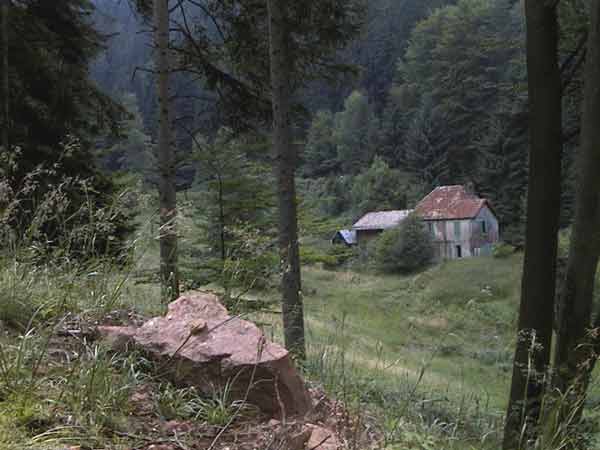 The unpaved roads and forest roads are thin black lines on the map, sometimes dotted.
The following category on the map are the white roads. Again real GS roads, with holes and grit and mud and corners, through the Vosges.

Then there are the yellow roads, sometimes even of good quality. The most beautiful road of the Vosges is the Route des Crêtes , a yellow road high over the tops of the Ballons d'Alsace : the highest hills (or mountains).
You have clear views because there are almost no trees. One beautiful corner after another, a superb motorcycle riders road.
But do prepare for sudden surprises: at another yellow road we spot warning signs, and signaling car drivers.
And even then it almost came as a surprise: just behind a very fast corner there was a dangerous crossroad, where the fire brigade was extinguishing a burning Diversion.
It didn't look like the motorcycle rider survived. That crossing is a very difficult one, and the Diversion rider had hit a truck, crossing the road, just after the fast corner... The motorcycle rider officially had right of way, but when a truck starts crossing when there is no traffic, a motorcycle rider enjoying the corner will hit the truck, without any means for the truck driver to make a difference.
Small hotel with one star
We sleep in a one star hotel this time: very different from the one in Saverne.
When we drink a beer in the village I manage to hit Ernst's head with a full glass of beer (everyone wonders how I cope with him, but the question the other way around is often more appropriate). The French hurry to give a new beer, to clean the glass, and dry Ernst.
In the hotel, the following morning, when breakfast consists of bread and jam and coffe (as is to be expected in France, of course), I ask for "un oeuf, et du jambon ou quelquechose comça, s'il vous plaît?".
And we get two fried eggs per person, and a big slice of delicious ham. The French are so friendly!
The following day, we roam through the Vosges again. I already mentioned the most beautiful road, the Route des Crêtes.
The most beautiful town is Ste. Marie aux Mines . It almost equals Venice at the aspect of colours.
Belfort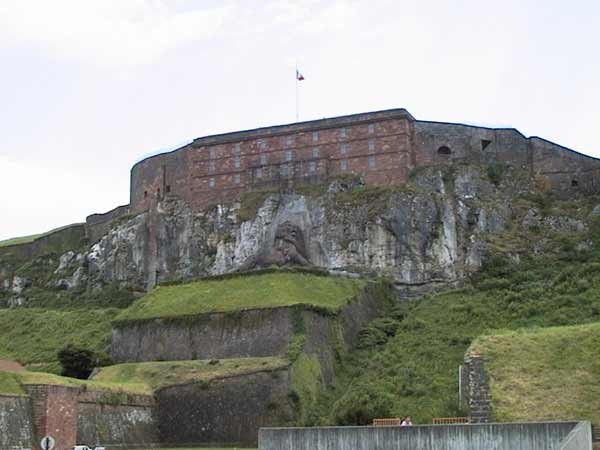 Very interesting as well is Belfort , which we visit the next day.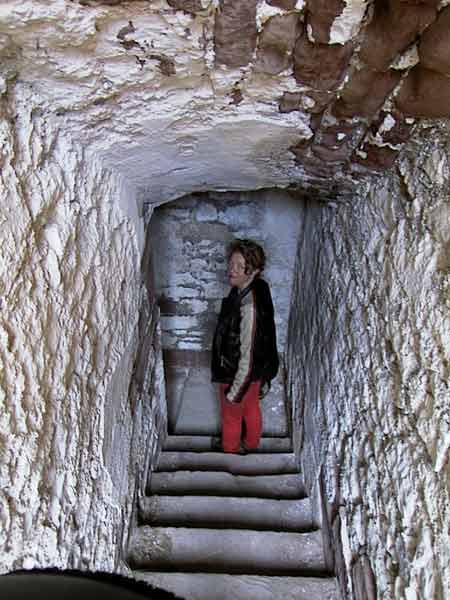 A town with a very big fort, with a subterranian network.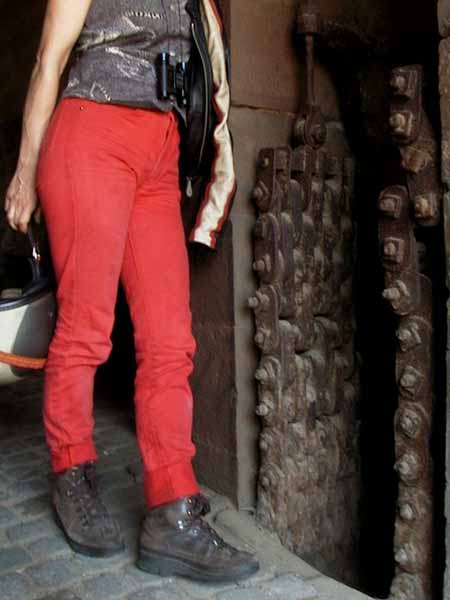 The portcullis is served by enormous chains.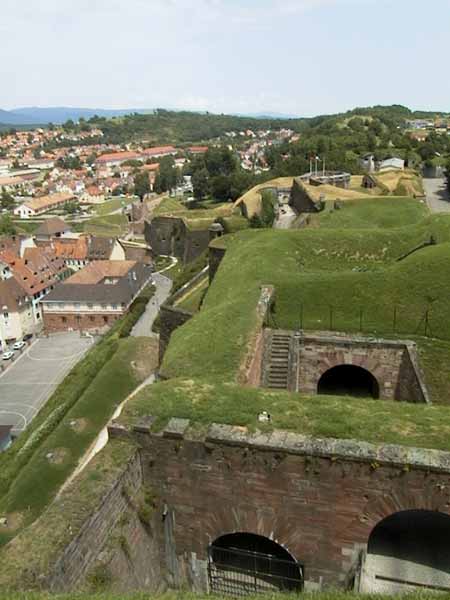 The weather is very warm, and climbing the fort and looking at the views cost us so much time, that afterwards, the restaurants are closed (well, to be honest, we find one that still serves the menu du jour: Brochettes de Viande, but I guess that I don't like that (because I am very picky about meat) (but later on, we find out that's it's delicious meat on a stick)).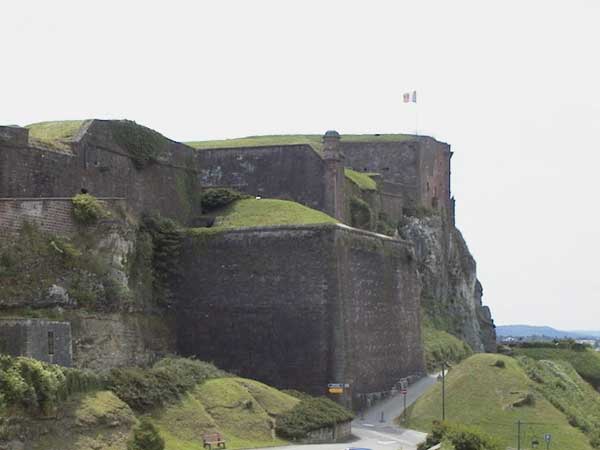 When I don't eat in time, things go wrong. When I don't drink in time as well (no I am not speaking of alcohol). So now things go wrong twice.
Ernst starts to worry, and when Ernst is worrying, it starts raining...
Eating Snickers and drinking water didn't help againste the rain.
Sometimes it dries up a little bit, and to be honest, the Vosges look very well in a bit of rain. They are very green, and green means rain...
When it's time to eat again (around 8 o'clock), it rains heavily again.
Sleeping in a chateau
The strange thing about France is that you only see Pharmacies when you are in search of a restaurant (recognisable by a blue and green neon cross, flickering in exactly the right frequency to trigger a migraine), while you only encounter restaurants when you are looking for a pharmacie.
So we look for the biggest village in the neighbourhood, on the map, and ride through the rain to Le Thillot.
The only restaurant there is a sort of snackbar, not very appealing, so we decide to look for the hotel-restaurant, with piscine and all, of which we have seen signs since a kilometer of 20 or so. In my rather pessimistic fantasy (at this time), it's a sort of American Holiday Inn, but ok, even that seems better than the snackbar...
The same kind of signs take us out of the village, and we arrive at a big garden, with high trees, with, according to the signs, a Hotel Château: Hotel Chateau des Tanneurs in le Thillot. Shit, this looks much too chique for us.
But we have a look anyway.
And yes: a Mercedes with linnen roof is parked in front of a big house, decorated with much taste. A sign says that the restaurant is open only for the "residents".
Ernst stares a bit to the rain, and then looks at me with eyes asking "Do you think what I think?".
Ok, we are going to spend the night in the château, and will eat in the restaurant as real "residents". I walk inside, to ask about a room. I may choose between a big room or a small one (modest as I am, I choose the small one), and for a lits-jumeaux or 1 lit. Un lit of course!
We get the "chambre rouge", the red room. With big, yellow bathroom.
When we inspect the room in detail, later, we discover jigsaw puzzles and notebooks in drawers: not long ago, people still inhabited these room.
During all this time (the lady of the castle has shown me the room, and offers to show the rest of the house), Ernst is waiting outside, in the rain. So I tell the lady that the room is magnifique, and that I will collect the luggage (meaning Ernst especially). The Château lady tells us that we may park the motorcycles in the garage, and walks in front of us, outside, to point it out.
That is a great sight: she is about 50+ years old, and wears a small, bright blue, tight strapless dress with paillets, with according high heeled bright blue pumps. For outside, she takes an umbrella, and dressed like that, she walks in front of the motorcycles, to show the entrance of the garage at the other side of the house.
When we have installed ourselves in our room, she shows us "la maison" with a terrace, a living room with fireplace and many books (Kama Sutra-like works are a favourite here), and the room for dinner.
Our host introduces himself as well. We may choose when to eat (immediately), and than we have dinner, together with our host and hostess (but at different tables).
We are the only guests. We even get the impression that we are the very first guests in the fresh history of this hotel...
The winecard is written by hand. We order a bottle of Tokay Pinot Gris, that tastes much too good, so we empty the bottle by accident. This was probably a whine that lied for years in the cellars of this house.
I have to pay for it the next morning (sick, and - again - a headache): that's the reason I know that rule about restaurants and pharmacies so well. Enjoying the breakfast was rather difficult because of that, although the croissants were fresh and delicious, and were served by the Château lady, who for this time dressed in an old jeans with singlet.
Les Ballons des Vosges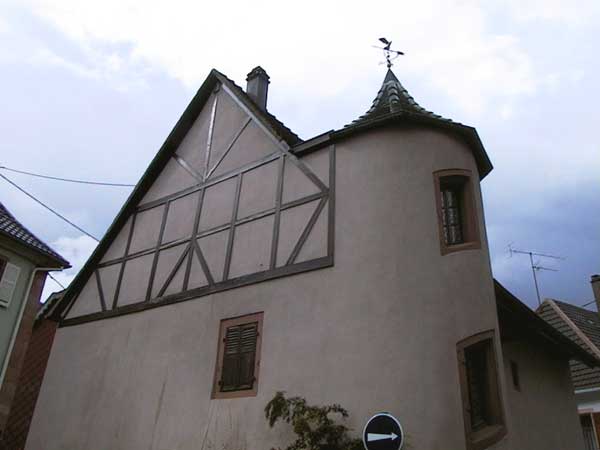 Our trip of today takes us over the Ballons , that cover themselves in mist. Riding high through the Vosges, over roads of Route des Crêtes quality (of course, we rode it again), where there are almost no trees, is something you should not only do in fine weather (views!), but also in mist.
The mist changes the gentle landscape in something rough.
We crisscross through the Vosges, and take the roads that we enjoyed the most the other way around, and try still unkown roads. Because we liked the hotel so much, we sleep again at Chez Jean, this time with a bath (and unfortunately a lits-jumeaux again).