Berlin
September 1997
I had left by plane to Berlin, and Ernst would follow the next day. The next day kept moving ("I am certain that I will finish the booklet tonight, so you can expect me tomorrow"), but eventually, he really came by bike, even without getting hurt or anything.
Before leaving, we explored Berlin by foot (it is possible, but your feet will hurt!).
I liked Berlin. It is very vibrant and living. Big new buildings arise everywhere, and I hope the city will never reach the point of being finished, because now, it has the absolutely perfect combination of old, new, decay and renewal.
Our hotel was in Kreuzberg, which is a very pleasant neighbourhood, with yuppie shops and restaurants, older many-family-houses with workshops, and shops and restaurants from every nationality you can imagine, mixed up.
And of course we visited the Brandenburger Tor (in the process of being restored, very ugly) which is the place to go for Russian dolls and Russian binoculars.
And Alexanderplatz, huge, a once different world (the rim of the fountain is excellent when you want to lie down for half an hour).
Toward Poland
On to Poland! The green roads in Germany are really worth their colour. You almost get thankfull for "Sperrgebieten" because they create wilderness (we crossed a lot of them, and very big ones too).
We crossed the border at Görlitz , a very beautiful town, which we should visit another time by daylight.
At the border, there were queues. One for trucks and busses, one for cars and motorcycles, but the biggest queue by far was the one for "cars with a trailer containing a wrecked car". They made a special sign for this queue, showing such a car, with the wrecked car very obviously wrecked. I suppose they have these signs at all the German-Polish borders.
Buying car wrecks in Germany seems to be a profession for many Polish people. When riding in Poland, we saw why: everybody in Poland wants to drive a car; almost everybody in Poland drives a car. And of course, few people have the money to buy new cars.
Jelenia Gora
We entered Poland by night, on what appeared to be a beautiful curvy road. But of course, we couldn't see much of the surroundings, and we had some trouble before our light shone at the right height on the road. People drive like crazy in Poland! For the first time in my motorcycle life, more cars passed me than I passed cars!
In Jelenia Gora we would look for a camping ground. Camping grounds in Poland appeared to be named, very romatically, by a number. If I remember correctly, ours was called nr 130.
We were the only visitors on the camping ground, and we received a wooden sign, with the number "1"on it, to hang on our tent. (When we left, the woman at the desk asked: "Which number did you have again? I thought number 1?"). We had all the toilets and showers for ourselves, and they were cleaned twice a day!
Jelenia Gora itself has a pretty market square, but too much restored to my taste. And all the houses are restored at the same time, which makes it look unreal.
But we went to Jelenia Gora because we wanted to ride in the Karkonosze mountains.
And yes, you can ride there on beautiful curvy roads, in the midst of farm houses with geese and everything, but you will never be able to stop noticing the penetrating smell of coal and smoke, and you will never be able to stop noticing the smog, which hangs like mist around you.
This region is probably the most polluted area of Western Europe.
When you are there anyway, visit Walbrzych!
We did, not on purpose. It is the most depressing and polluted town I have ever seen. We tried to get out of it, but found ourselves again and again at the "Walbrzych" sign. Eventually, we decided to escape by a big road instead of by a nice tiny one, and we succeeded ;-)
Krakow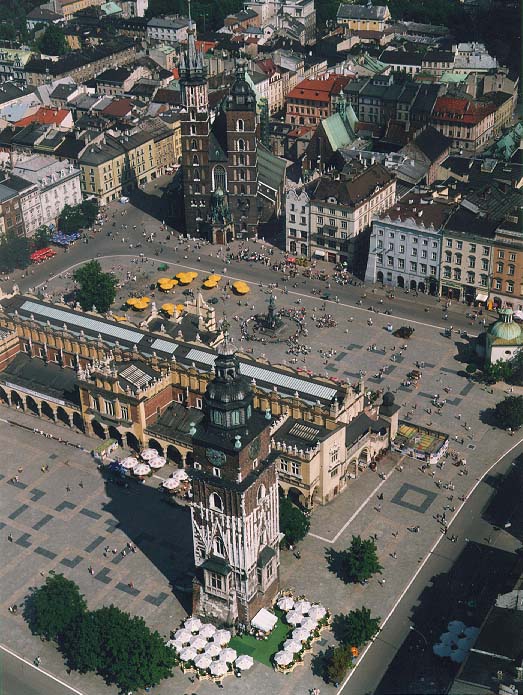 We arrived late in Krakow , (the photograph is from this website), and went to a hotel (hotel Pod Roza, highly recommended, you can garage your bike). But before doing that, you should eat and drink something in one of the many cafe's and restaurants where you can sit outside, on the central square, and, most important, park your bike in front of you, on the sidewalk.
Entering the square by motorcycle is prohibited, but don't pay attention to that detail.
As said before, everyone in Poland wants to own a car. You don't see any motorcycles (well, in fact, we saw three), and they are not looked upon as anything desirable. But this motorcycle had a very desirable expensive looking BMW logo, and didn't look at all like an inferior way of transportation. So people didn't know what to think of it, and everybody stood still, staring at my bike.
A few people got that dreamy look in their eyes ("When I would be the owner of such a thing, I could go anywhere"). A few small boys dared, after much hesitation, to give the big BMW a very tiny kick, which scared the hell out of their mothers. You can go on for ages looking at people looking at your bike ;-)
Of course, as always, the policemen are the most fun to look at: a couple of different policecars drove by, each a couple of times, looking puzzled at the bike ("Should we do something about it? If yes, what? It is a strange thing, isn't it? It looks expensive. Where could we leave a ticket?").
Another thing to do in Krakow is drinking wodka. I asked for Stolychnaia which they didn't know of (it's Russian), but they did have a very good Polish brand: Wyborowa
We drank it in an open-air cafe, in an inner courtyard. After a while, we discussed every client in the cafe louder and louder. The people we liked liked us, and the people we didn't like didn't like us at all. We discussed whom should leave with whom, etc, and had a very happy evening.
The only disadvantage of the hotel is that you have to leave at 3 pm the next day, and our bodies were not quite prepared at that moment.
Slovakia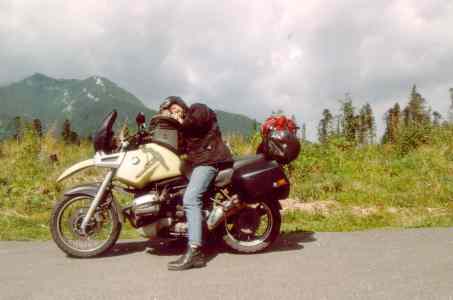 After spending the night in Zakopane (which we only saw by night; but we did see that everywhere, houses and hotels and pensions are being built), we left Poland, through the High Tatra, to Slovakia.
Most of the High Tatra is situated here, and tourism seems to be of a different kind here: the area is rather wealthy looking, without any of the free-enterprize-small-business tourism buildings like we saw in Poland.
It looks like the High Tatra in Slovakia has always been the place to go for wealthy people, and that no changes are needed. As a result, the area looks both richer and quieter.
The roads were excellent, freshly tarred, curves all over, magnificent views, motorcyclist's heaven.
This motorcyclist's heaven went on until the plains of the Donau, when we approached Bratislava.
The strange thing was that we seemed to be the only ones making use of the roads. There were no cars, no motorcycles; only a horse carriage now and then. I suppose the excellent roads are the results of some subsidy or something.
People in Slovakia have a way of living totally different from what we saw in Poland. I guess that we saw the industrial places in Poland, while the Slovakia that we saw is rural. Everything in Slovakia looks healthy and well-maintained, but not Western at all: no jeans, no cars, no pollution.
But probably much poorer than Poland when expressed in money.
For us tourists, Slovakia was, of course, magnificent. People waved at us, and stared at the bike, tried to make contact, and were very friendly.