Traveling through Germany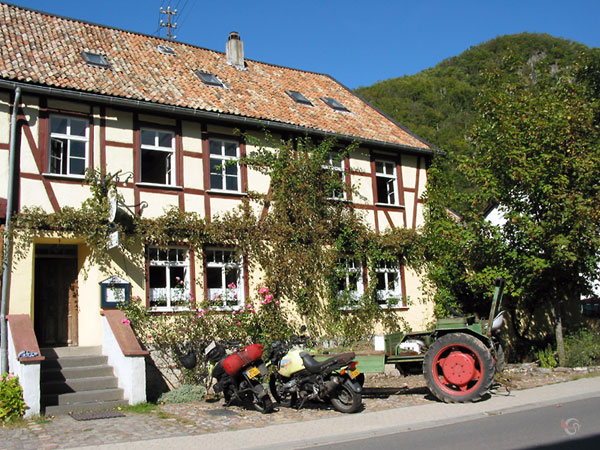 We didn't take the Autobahn in Germany: it's much more fun on the other roads. Compared to the Netherlands, the maximum speed there is high (100 versus 80 km per hour), there are lovely villages, and there are many superb roads.
The B258, B257 and B259 for instance, near the Nürburgring, form a circuit by themselves.
We rode from South Limburg in the Netherlands (where we live) to Bad Tölz near München, and, on the way back, through the Black Forest.
More pictures about riding through Germany on the Dutch Day 1 nl and Day 7 nl .
Intermot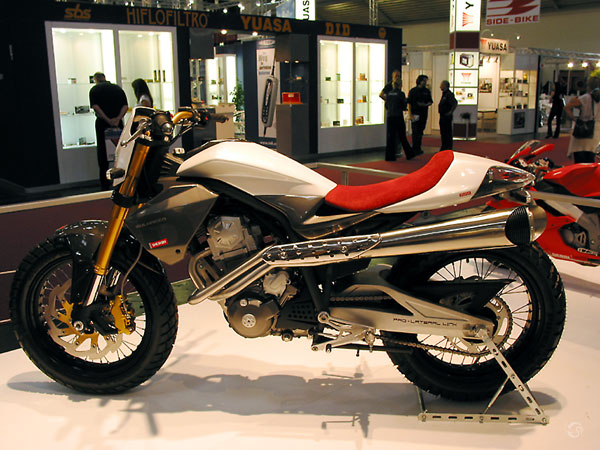 The Intermot is a big motorcycle fair in Germany, held once every two years. When we went there, it was held in München; these days, it takes place in Köln.
There were novelties (the Yamaha MT-01, the Derbi Mulhacen, and much more), accesories, helmets, sidecars, exhibitions about famous people and their bikes, etcetera. Very worthwile.
More pictures of Intermot on the Dutch Day 2 nl .
Bad Tölz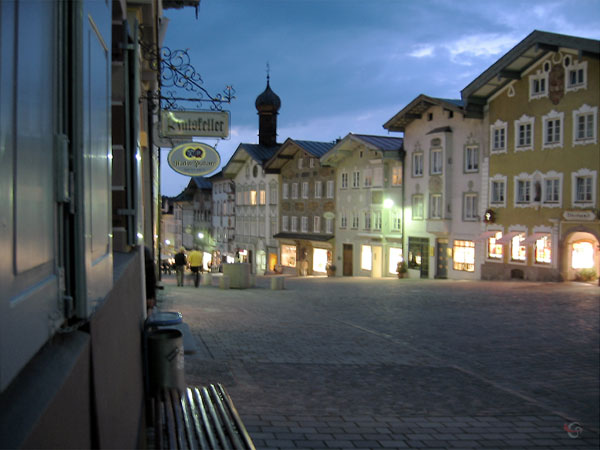 The whole of München was fully booked, so we had found a hotel in Bad Tölz, some fifty kilometers to the south. It's a Bayren town, with "trachten"-shops (lederhosen and dirndls), houses with painted figures, churches with onionshape towers, and so on.
More pictures of Bad Tölz on the Dutch Day 3 nl .
Austria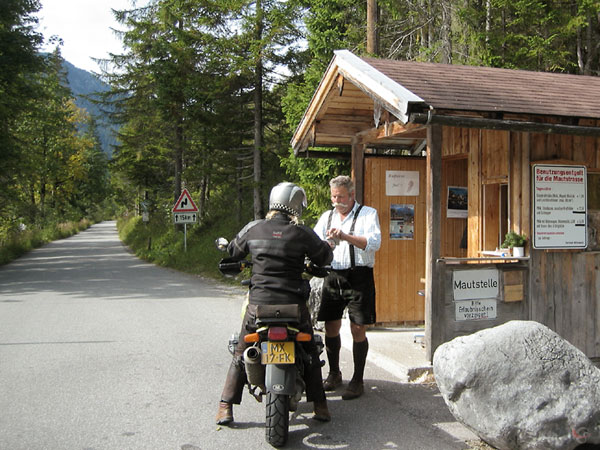 The part of Austria where we rode is Tirol, and Tirol is the essence of Austria. Farmers "art" in the form of painted houses, wooden statues (carved during the winter months), and Lederhosen of course.
It's very agreeable to ride through Tiroler villages! The Alps make sure your motorcycle will enjoy itself as well. And fuell is cheap: Austria is a great motorcycle country ;-)
More pictures of Austria on the Dutch Day 4 nl .
Swiss Alps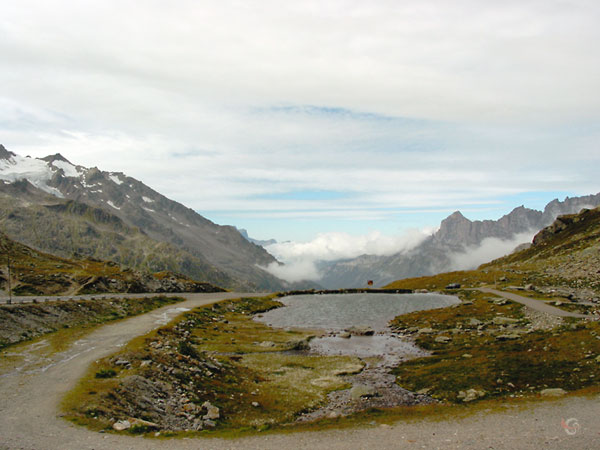 In Switzerland, we rode four of the "big" Alp passes: the Susten, the Grimsel, the Nufenen and the St Gotthard (the old pass: the Tremola road).
It was september, the sun was shining, the roads were empty. Under those circumstances, I can't imagine any place better for motorcycle riding than the big passes over here: you climb very high, the roads are of very good quality, the sight is stunning, and so are the views.
More pictures of the Swiss Alps on the Dutch Day 5 nl .